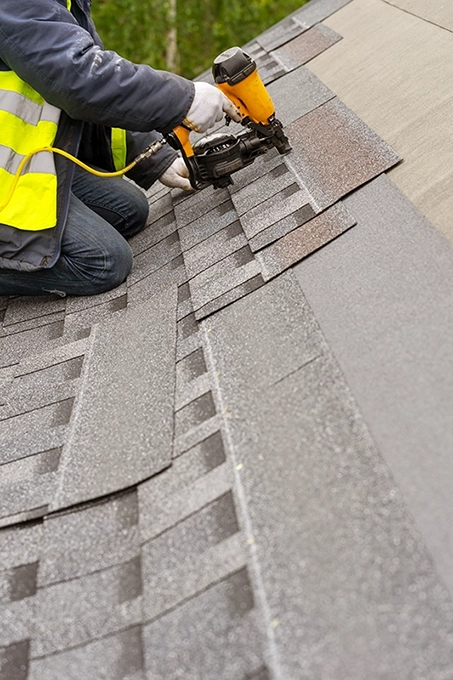 Roof Repair
When your roof suffers significant damage due to weather events or if there's a minor leak, don't try and fix the issue yourself. Doing so could lead to more serious problems and even personal injury. Rely on experienced professionals for all roofing repairs.
Let Newark Roofing handle your Newark roof repair needs. Our skilled specialists understand local weather patterns, stay abreast of industry developments, and carry products from trusted manufacturers - giving us the edge to tackle any type of damage to a roof. With this expertise, we can effectively restore any type of structure.
Emergency Storm Damage Repair in Newark, OH
When the wind howls, hail falls, and trees nearby bend and break, do your best to stay safe. Once danger has passed and you find yourself with damaged home or business property, contact Newark Roofing for comprehensive storm damage repair and emergency services throughout Licking County and nearby areas.
Get a free estimate or fast emergency service by calling 740-763-2867 now!
Expert Storm Damage Assistance
If your roof has been damaged in a storm, contact us immediately for an inspection that could prevent a minor issue from becoming an expensive catastrophe. We also handle insurance claims.
Put your trust in Newark Roofing for all roofing repairs and restoration needs.
Call (740) 728-7405 to book your inspection now!
At Newark Roofing, we know the sense of urgency that comes with calling about roof repairs. Any and all damage to your roof can feel like a personal attack. That is why our customers can rest assured knowing we take their needs seriously and offer flexible financing options and price matching to make these necessary repairs more manageable on their budget.
No need to wait! Depending on the circumstances, we can also provide temporary repairs in order to protect your home from further harm or damage.
Newark Roofing Has Been the Go-To Roof Repair Experts for Decades
Newark Roofing has been one of the top roof repair companies in the region. Our roof repair professionals are expert roofers that can address a range of roofing issues, such as:
Free Roof Inspections: Are you worried about the condition of your roof after a tree branch hit it? Or have you just come through a storm? Ask us about our FREE roof inspections!
Shingle Replacement: Our roofing specialists can replace missing asphalt shingles that are curled or lifted as well as old shingles.
Storm Damage Repairs: We specialize in repairing or replacing roofs damaged due to wind, hail, and ice storms.
Ask About Our Free Roofing Quote
Why stress about your roof when you can have experienced professionals take a look right away? Set up an obligation-free inspection with Newark Roofing today, and enjoy peace of mind knowing your home is in the hands of highly-trained, certified experts.
Avoid Those "Storm Chasers"
There are two types of storm chasers: those from out-of-town who provide repair work at low costs but ultimately charge high premium rates for what is known as 'quick-fix' deals", the the local pros that are here to stay and provide services to the community for years and years.  Choose local!
These guys are mostly fly by night roofing contractors are from out of state and might not be insured, bonded, or licensed. Don't get taken advantage of by these con men, call on the experienced roofers in the area residents have trusted for years - Newark Roofing.
Damaged Roof?
CALL THE EXPERTS FOR ROOF REPAIR
When your roof experiences major damage due to weather-related events or if a minor leak develops, don't try and fix the problem yourself. Doing so could lead to more serious problems and even personal injury; therefore, it's just not worth the risk in the long run. Instead, trust Newark Roofing, the skilled roofing experts.
Head Off Problems with a Roof Inspection
Over time, roofing systems can deteriorate and break down due to weather and exposure, which could end up leading to leaks and structural damage to your home. Our professional roofers provide comprehensive inspections to determine the condition of your roof and make recommendations for repair that will prevent further harm.
Here are just some of the signs we look for when inspecting a roof:
missing, worn, or loose shingles/tile

Split or worn asphalt shingles

Discoloration in shingles or metal panels

Rust, loose screws, or seams that are loose on metal roofs

Granules from shingled accumulate inside gutters

Loss of flashing in the valleys or around the chimneys, vents, and sky lights.

Roof vents that are blocked

Mold and mildew growth

Stained or damp decking
Don't let a damaged or worn-out roof cause issues with your home.
Call us now to arrange for an in-depth, professional inspection of your roofing system so you can avoid disaster and costly repairs down the line.  (740) 728-7405
We are insurance specialists. If your home was damaged due to a storm, high winds or heavy snowfall, we can start the insurance process for you. Dealing with damage to one's home is an emotional and difficult time; that is why we are here to guide you step-by-step and ensure both your house and family receive proper care.
Call Us Today For A Free Inspection Of Your Damage (740) 728-7405